Velocity advertorial. Innovation and sustainability bring Dorset and Velocity together.
Dorset Works Organisation - the contracting division of the County Council - are responsible for carrying out Highway Maintenance activities throughout the South Western County. The Organisation has recently been tasked with introducing innovative road repair solutions. The aim is to provide cost effective sustainable alternatives that are environmentally friendly and will help to ease the burden on road maintenance budgets whilst improving the rural network.
As part of this approach Dorset is currently trialling "Velocity Patching" a new routine maintenance process that takes an unconventional approach to repairing potholes and other road defects - Velocity Patching is much faster than conventional methods as only the defect is repaired, it removes the need to 'dig out' as with conventional repairs. The process produces minimal waste leading to considerable savings in landfill costs. Velocity Patching compacts the new material as it is applied without causing any further damage to the existing road base or surrounding area, Velocity Patching extends the life of the rural network. Further benefits include increased productivity, significantly less disruption to road users and a substantial reduction in carbon when compared to conventional repair methods. Velocity Patching saves money, reduces transport, labour and waste costs.The reductions support the County Council's directive requiring them to do more with today's reduced resources and its impact on the environment. Through these savings Velocity Patching is helping Dorset County Council to achieve its goals of maintaining the rural network in a way which protects the environment and reduces costs.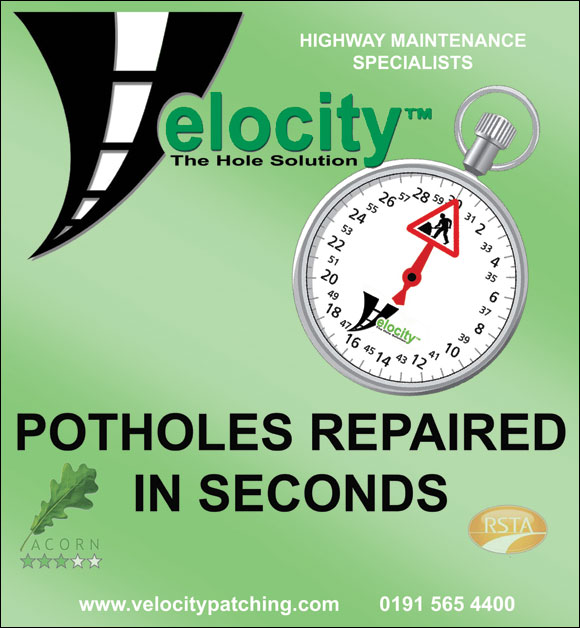 These photos highlight how the Velocity Process removes the defect and seals the area from further water damage adding valuable life to the rural network.
Velocity began the trial in early September and quickly helped Dorset clear a backlog of three weeks defects across the County caused by poor weather. This was achieved in three days! Velocity has since worked across Dorset and carried out around 1000 repairs in the first month. Defects have included potholes, failed road edges, depressions and sealing previous conventional repairs. All works are recorded by the onboard Vehicle Tracking & Recording System, and reports are provided weekly to Dorset Council showing time and date stamp of the repairs - an invaluable tool when combating insurance claims!
Andrew Martin, head of the county council's in-house contracting division, Dorset Works Organisation, said: "This trial highlights our need to carry out more work using new techniques that could reduce costs and the impact we have on the environment. We are very encouraged by the results of the trial and look forward to working in conjunction with Velocity to bring this process to Dorset."
For further information how you can extend the life of your network please contact Velocity UK Ltd on 0191 565 4400 or email us at info@velocitypatching.com
For further information visit: www.velocitypatching.co.uk