Colas advertorial. The vegetarian road surfacing option
A new vegetable-based binder offers a natural alternative to bitumen or petroleum resin based binders. The binder, Vegecol, is available from highway maintenance and materials specialist Colas. It has been successfully used is surface dressing applications and as the binder in surface and base course asphalts in continental Europe for several years. The binder is now gaining recognition in the UK following its use in Portsmouth in 2007 and through further pilot projects carried out last year and this.
Vegecol is transparent and so can produce naturally aesthetic or coloured asphalts with the addition of pigment or decorative aggregates. The vegetable-based binder can help lower the temperature at which asphalt material is mixed by as much as 40 degrees. This results in reduced fuel consumption and fume emissions from the production plant. Furthermore, because surfacing materials using Vegecol contain no hydrocarbons from refining oil, the finished product does not degrade when it comes into contract with fuel spillages.
In the UK, Colas has been using an emulsified version of Vegecol as the binder in its Fibredec process. This is a surfacing system with high tensile strength consisting of a layer of glass fibres laminated between two layers of binder – usually a bitumen emulsion. On one section of a canal path in Woking, Surrey, Vegecol has been used as the binder and formed the Fibredec surface with the glass fibres and a layer of 'buff yellow' aggregate. The finish was specified by Colas' client Sustrans, the sustainable transport charity and cycling promoter, to complement the natural surroundings. "Use of the clear binder has allowed the colour of the aggregate to show through and also provides a seamless and invisible joint between two adjacent applications of the Fibredec surface", explained Colas contracts manager Arthur Thompson. "The existing cycle way in Woking was an unbound, Type One sub-base. Use of the emulsified Vegecol binder in a surface dressing applications provided a strong contact with the old surface."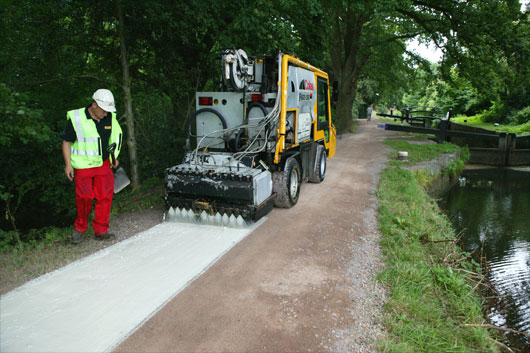 Sustrans technical director Huw Davies added: "We are always keen to look at alternatives to bitumen for cycleway and footpath surfacing, so we are pleased to have been involved in piloting this product."
The Woking pilot was followed by emulsified Vegecol being used in Durham as the binder in a surfaced dressing applied to resurface a footpath on a major pedestrian thorough fare in the city. The footpath is used by visitors alighting at the city's bus and coach stations and was in need of repair. As it passes close to the city's World Heritage Site, an attractive finish was required and a buff coloured crushed gravel was chosen to complement the surroundings. "Use of crushed gravel gives the footpath a nice texture and I am encouraged by the environmental benefits of not specifying any bitumen for resurfacing," said Roger Elphick, Durham County Council's acting corporate director for environment.
Use of Vegecol offers significant environmental benefits in terms of visual appearance and the preclusion of a bitumen or oil-based binder. This is a particular advantage where footpaths or cycleways pass close to a water course and there are concerns over possible material spillage.
Vegecol is manufactured at Vitrolles in southern France by Colas UK's parent company Colas SA. Use of Vegecol in Europe has extended to surface and base course asphalts and the binder is currently being produced at a rate of 1,000t a year from the French plant. Colas UK's business manager Carl Fergusson reports that the binder has been specified for use in surface dressing applications in Germany and that surface and base course asphalts containing Vegecol have been developed and laid in Hungary, Belgium and on the Caribbean island of Martinique. Vegecol has also been used as a binder for an insitu asphalt recycling process. "Vegecol is a tremendous innovation said Fergussion. "There are huge opportunities for us, given the way that the prices of oil and bitumen are going. Colas has spent over 100m Euros on research and development over the past year. If we want a sustainable business then we have to be investing in alternatives to oil and bitumen."
For further information visit: www.colas.co.uk