RSTA News
USING GEOSYNTHETICS AND STEEL MESH FOR LONGER LASTING ROADS
A one-day seminar examining how geosynthetics and steel mesh systems can provide longer lasting roads and airfields is to be held on Thursday 12th May at the Society of Chemical Industry (SCI), London.
With highway budgets facing increasing pressure the seminar, organised by the SCI in partnership with the Road Surface Treatments Association (RSTA), will demonstrate how increased asset value and reduced whole life cost can be achieved via the use of geosynthetics and steel mesh systems. Key industry speakers will examine manufacture and installation techniques, the RSTA/ADEPT code of practice and Highways Agency interim advice note together with a range of project case studies plus overseas experience.
Aimed at practising engineers and technicians, the seminar offers a comprehensive insight into how to gain maximum performance from heavily trafficked roads and airfield pavements.
For further information and registration visit: www.rsta-uk.org/calendar.
---
TRAINING WITH RSTA
The RSTA has recently become registered with Construction Skills as a provider of Specialist Apprenticeship Programmes (SAP's) for members and non-members. Providing interested companies pay a levy to CITB they will qualify for grant support to the tune of £5200 per candidate and the overall training is aimed at being cost neutral to the employer. New starters or mature experienced workers can participate in SAP's.
The apprenticeships run for 2 years and require the candidates to spend 25 days off the job training which is provided in short bursts, usually in 3-5 day blocks. Much of the training is undertaken at the employer's premises, operating to a nationally agreed curriculum under contract to RSTA. The SAP consists of typically 15 modules including mandatory training on employment regulations, health & safety etc plus several modules on the technical aspects of the particular technique, with the course content written by industry experts.
On completion of the 2 year SAP each candidate will receive a NVQ Level 2 which is required to obtain a CSCS card. Currently the RSTA is running a SAP with Velocity Patching based in Sunderland with 6 mature candidates with plans for another intake later this year. A high friction surfacing SAP has been developed jointly by RSTA and RSMA (Road Safety Marking Association) and this is expected to be launched during this summer. Plans are also afoot to offer a slurry-micro surfacing SAP in 2012.
The RSTA have recently completed a 6 month project funded by Construction Skills as part of their Management and Leadership Development Programme (MSDP). The project aimed to gain a greater understanding of the training needs of contractor members and client bodies with respect to using surface treatments. The project culminated in a one day seminar at Liverpool John Moores University in December which saw a wide range of presentations on different maintenance techniques". This seminar will be run again during 2011, for further information on course dates visit www.rsta-uk.org/calendar.
The RSTA are also working with CSKills on another MSDP project to raise awareness of how to calculate Carbon Footprints for a range of surface treatments. The new ProTECT software tool (Pavement Treatment Embodied Carbon Tool), was launched at a seminar attended by 65 delegates at The University of Nottingham on 14th April and will be run again in the autumn.
For further information contact the RSTA Colchester office.
In addition to running SAP's the RSTA also offers a comprehensive programme of training courses covering; surface dressing, slurry-micro surfacing, high friction surfacing and other specialist techniques such as re-texturing, patching solutions, geosynthetics & steel mesh systems, preservation techniques and recycling. All courses are available on the RSTA website at www.rsta-uk.org/calendar.
---
HIGH FRICTION SURFACING CODE OF PRACTICE
Following discussions with the Highways Agency and ADEPT in late 2009, it was clear that client perception of high friction surfacing was at an all time low.  The clients' views were that the installation of the products was expensive and that the service life being achieved was not providing value for money. Therefore, through honest discussions within the High Friction Sector of the RSTA it was agreed that a Code of Practice would be developed to enhance the application process of these systems and ensure that 'best practice' was achieved all times.  The client sector initially asked the RSTA to write the document so that improvement in standards was driven through the installers within the industry.  The document has been written be various members within the association along with support from ADEPT.  The document was presented to SG1 in November 2010 and will be finalized and issued out to all ADEPT members by 1st April 2011. 
The concept of the document is to ensure that ECI is achieved with the client, so that the preparation of the surface, prior to application is correct, the application of the products are applied in accordance with the manufacturers BBA Certificate and all products are applied at the correct time of the year.  The document has been written to put onus on both the client and installer to ensure that the profile of the applications are improved throughout the entire country. Another major improvement within the document is that calcined bauxite is identified as the preferred aggregate option in Type-1 systems and the only source of material that will provide long term benefits and durability on High Friction applications. Included is a new UK specification for Calcined Bauxite aggregate to ensure that a consistent product is always applied
As we are all aware, high friction surfacing has been applied in the UK since the 1970's and has been used as a high performance treatment that reduces skidding on safety critical areas of the highway. Over the last few years due to some early failures of the product this perception has been damaged. The Code of Practice encourages the industry to more widely adopt 'best practice' which will ultimately improve and restore the confidence in the products. One of the major benefits to the client sector and the installer is that if the Code of Practice is followed then the guarantee on the products will be extended to 5 years.  This is a huge step forward in the market place and will not only improve the overall quality of the products, but it will also allow clients to manage their assets better moving forward.
---
RSTA CONFERENCE: OBTAINING BETTER VALUE FOR ASSET MANAGEMENT
The drive for cost efficiencies and best value is a prime concern for many as budgets are under increasing pressure. How to best address this through asset management was examined at the recent Road Surface Treatments Association industry conference.
The starting point for asset management is to first ascertain the worth of that asset. Chris-Allen Smith, from Hertfordshire County Council, stated that local authority infrastructure alone is worth some £400 billion, compared to the £300 billion for the rest of local authority assets. He outlined the work that RSTA and ADEPT has been carrying out to determine how investment in surface treatments can increase the performance and longevity of the local road network. Indeed, the use of surface treatments can increase the service life of roads by 10 to 15 years.
It is the service life rather than the design life that is the real issue here. The service life covers value for money, carbon footprint, performance and provides information on the most appropriate maintenance solution. Integral to the calculation of service life is life cycle planning. This facilitates the development of the best overall strategy for asset management. It enables the calculation of the gross replacement cost, the annual depreciation and the annual running costs. This is essential for real budget planning.
The provision of this basic information encourages the examination of different surface treatment options. All too often the solution chosen is based on what was done before rather than what new solution may offer a better result. Above all the information provided tells us that for roads, early and planned intervention equals good asset management.
A tool for the calculation of the carbon footprint of surface treatments would prove useful for life cycle planning. Such a tool is being developed, under funding by RSTA, at the University of Nottingham. Professor Tony Parry, at the University, explained how the carbon calculator tool will provide the carbon footprints for six road surface treatments. In particular, it will calculate CO2 hotspots such as obtaining raw materials and transportation. Generic outputs from the tool will also be able to be fed into the maintenance stage of asPECT, the Highways Agency's carbon footprinting tool for asphalt roads.
The tool provides the carbon footprint for 'cradle to laid' and could have potential for 'cradle to cradle' – from manufacture to recycling and re-use. It will enable clients to calculate the CO2 impact of a particular surface treatment for a particular site. The tool has now been launched and will be subject to further developments to include further surface treatments and feedback from both contractors and clients on how it works in real life scenarios.
The need for innovation, touched on by Chris Allen-Smith in his presentation, formed a central message of the presentation by Steve Issacs from TRL. He explained how no clear identification of risk ownership, combined with the lack of technical skills and the difficulty of getting new ideas accepted as common practice all present barriers to surface treatment innovation.  Today most innovation is manufacturer and supplier led. By becoming a partner in innovation, organisations such as TRL can provide independent testing and approval. This can provide the necessary evidence and endorsement for the introduction and acceptance of innovative solutions and best practice.
Best practice is key for asset management. To forward best practice, RSTA is developing and published a series of Codes of Practice. Howard Robinson of RSTA outlined a number of codes which are under revision, being drafted or soon to be published. They include codes for surface dressing, slurry micro-surfacing, high friction surfacing, velocity patching,  geosynthetics and steel meshes, recycling, preservation and retexturing. These codes will demonstrate how to achieve consistent standards and best practice. Both are integral to obtaining best value asset management.
Surface treatments are a process and these codes will provide the advice and guidance necessary for consistent delivery and ensure that local authorities and their contractors get the job done right first time.
Summing up the conference, Rob Gillespie, RSTA Chairman, highlighted how the current economic situation is very challenging for the road surface treatments sector. It calls for 'more for less' through the delivery of cost savings and high performance solutions. The sector is ready to work with clients and contractors to develop a whole life cost approach that, through asset management, will ensure such solutions are delivered.
---
EXTRA BUDGET FUNDING UNDERLINES PROBLEM OF POTHOLES
The Budget announcement by Chancellor George Osborne of an additional £100m to repair potholes although welcomed is an indication of how serious the deterioration of the UK roads actually is.
The announcement sees a doubling of funds already promised by the Department of Transport in February and is rumoured to result from Danny Alexander, Chief Secretary to the Treasury, witnessing the poor state of roads in his own Scottish constituency of Inverness, Nairn, Badenoch & Strathspey.
Whilst this extra money is welcomed it will do little to address the real long-term problem that local authorities do not have adequate funding to carry out proper, comprehensive maintenance. This extra money will be used for emergency patch-ups rather than long-term maintenance.
Proper maintenance is far better value than quick repairs. It costs only £2 m2 to surface dress and maintain a road but costs on average £78 m2 to repair potholes. Providing local authorities with the right level of funding in the first place would be far more cost effective than retrospective quick fixes.
---
FINANCIAL COST OF POTHOLE MISERY
Britain's motorists are having to dig deep into their pockets as the condition of our roads gets worse. The significant increase in potholes caused by the recent severe weather is exacerbating the problem. Before they are hit with an expensive repair bill, motorists are being urged to contact their local councils with details of potholes and demand action.
The financial cost to motorists of the recent severe weather is considerable. Aviva, the UK's largest insurance firm, has reported a 30 per cent increase in motor claims over the first two weeks of December 2010. Meanwhile warranty provider, Warranty Direct, believes that suspension and axle damage resulting from poor road surfaces is the most common cause for vehicle failure, accounting for some 60 per cent of vehicle failures. The firm reports that the average bill for pothole damage is £328.60 rising to £975.84 in some cases.
This is simply unacceptable, when you consider that motorists pay £46 billion a year in taxes yet only £2.7 billion of that is spent on road maintenance. Britain's crumbling roads cost the national economy some £20 billion every year and cost councils an annual £53 million in compensation claims. The national economy, local highway budgets and motorist's wallets would all benefit from regular road maintenance rather than emergency repairs.
Councils have a duty to ensure that roads are safe and worthy and there is a wide range of surface treatments available to ensure long-term road performance. They are fast to apply, generate no or minimum waste, lower the carbon footprint of roads and provide cost economies that allow authorities to get the best value from their budgets.
---
GOLF DAY WIN FOR BIRMINGHAM CHILDRENS' HOSPITAL
At the last Conference Golf Day, RSTA members raised £2030 for the Birmingham Childrens' Hospital. The money will go towards the £2 million new Childrens' Heart Surgery Unit.  Many thanks to all those who contributed.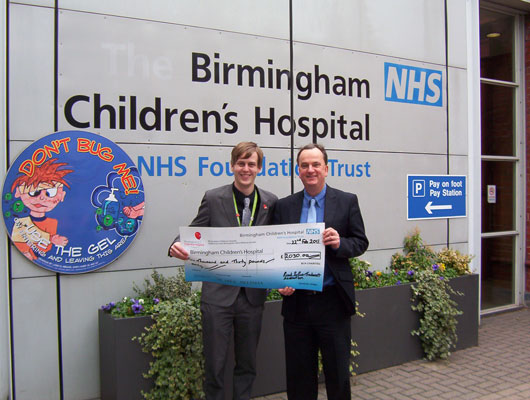 ---
ALARM OVER RECORD NUMBER OF POTHOLES
The condition of roads in England and Wales continues to deteriorate as the lack of forward thinking and budget cutbacks means that local authorities are not carrying out long-term preventative maintenance.
The latest findings from the annual local authority road maintenance (ALARM) survey has found that the number of potholes over the last year numbered over 2 million for the first time, an increase of 59% over the previous year. Even more worrying is the amount of money necessary to bring the road network up to a reasonable condition. This has risen by £1.5 billion to £10.65 billion.
The ALARM survey, carried out by the Asphalt Industry Alliance, questions local authority highway departments across England and Wales who are responsible for 95% of the road network. All but one of them reported that the last winter had resulted in serious deterioration on their roads. 90% of them believe that under funding of highway maintenance programmes could pose a threat to road user safety. "The condition of our roads continue to worsen, to such an extent that highway departments now fear that lack of road maintenance funding is becoming a road safety issue", said Howard Robinson, Chief Executive of  RSTA. "Recent attention grabbing headlines of the Chancellor providing a £100 million extra funding for pothole repairs does nothing to address to real issue - that of chronic underfunding for long-term road maintenance. This would extend the lifetime of the existing road network, keep the public safe and minimise the need for expensive emergency repairs".