RSTA Members' News
TRL JOINS RSTA
TRL, the UK's transport research laboratory, has joined the Road Surface Treatments Association. The two organisations have much in common as they both seek to examine and promote innovative, practical and cost effective road surface solutions that have high performance and low carbon benefits.
Commenting on their joining the RSTA, Steve Issacs of TRL said: "TRL is delighted to have become a member of the RSTA. As world leaders in innovation development and providers of solutions to highway problems, we have identified a real synergy with the work of the RSTA.
As the industry faces what may prove to the most difficult of times, we believe it is incumbent on all specifiers of highway maintenance to look at all options available and to call for innovation to play its part in providing practical, value for money solutions. TRL wants to play a role in this process and we very much see joining the RSTA as putting us in with the class leaders and where we will be able to offer the most help and support".
Welcoming the membership of TRL, Howard Robinson, RSTA Chief Executive, said: "RSTA and TRL have similar objectives in championing road surface innovation and best practice. We welcome the opportunity to share our knowledge and industry contacts to forward those objectives. Membership of the RSTA includes national and local contractors, local authority direct labour organisations and materials and equipment suppliers. Their operational experience will be complimented by the research knowledge of TRL, an internationally acknowledged centre of excellence."
---
NEW DEVELOPMENTS FROM KLARUW
Optimism about growth in the road surface treatment sector has seen retexturing specialist, Klaruw, develop four new machines.
The new prototypes include:
The MacroTex (MAT) shot-blasting machines pioneers the use of wet steel shot. A first in pavement shot-blasting, the all-weather process works primarily on macro-texture, or texture depth, and reduce aqua-planing. It also regenerates micro-texture to improve wet weather skid-resistance.
The MicroGrooveTex (MGT) diamond grinding machines cuts very shallow, corduroy-effect grooves in pavements to improve surface friction, restore skid resistance and reduce noise particularly on concrete surfaces.
GrooveTex (GRT) diamond grinder restores skid resistance and is effective on wheel-tracked or rutted surfaces.It helps to reduce aqua-planing.
RotoTex (ROT) flailer removes worn particles and penetrates surface binder to expose new material.
The new prototypes complement the company's long-established bush hammering machine, the KlaruwTex190 (K109). Klaruw now has a controlled mechanical retexturing solution for improving the surface skid-resistance of virtually every type, age and condition of pavement surface.
Retexturing is increasingly been seen as the solution to the range of road maintenance issues including cost effectively meeting carbon and waste reduction targets as well as road safety targets. For further information contact Phil Mason, regional manager, or Ged McGee, contracts manager, at Klaruw RMS tel: 0151 420 7377.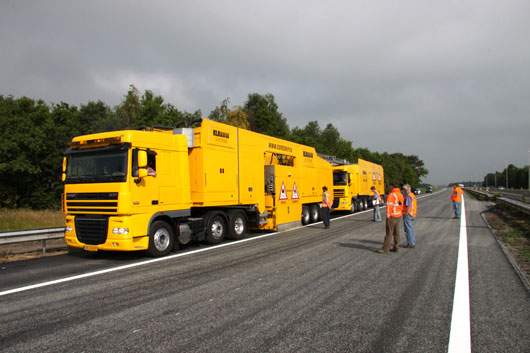 ---
AREA 10 SITES BENEFIT FROM RETEXTURING
A-one+, the managing agent contractor (MAC) for Highways Agency Area 10, has extended its use of KlaruwTex190 (K190) controlled mechanical retexturing to improve skid-resistance on selected sites across the network.
Following successful trials in 2009, the K190 bush hammering process has been used to retexture over 80,000 m2 of pavement in Area 10. The treatment has been carried out on motorway carriageway, slip roads and roundabouts by Klaruw RMS, the Widnes-based direct contractor for K190 treatment in the UK.
A-one+ cited reduced carbon footprint, cost savings and programme flexibility amongst the benefits of using K190. Phil Reynolds, A-one+ roads regional manager for Area 10, said: "Retexturing can extend the life of the surfacing resulting in immediate cost savings that mans funds can been made available for other schemes. The plant takes up less space than that required for resurfacing allowing more opportunities for planned traffic management closures. The speed of the process means the work can reduce network occupancy from a quarter to a half of the time required when compared to re surfacing. In terms of cost, it is at least 75% cheaper in the short term.
He continued: "The ability to use the process in virtually any weather provides greater scope to respond to revised priorities."
The process is particularly well suited to night-time working and so minimise traffic disruption due to efficient rates of progress (typically 600m2 per hour) and low noise levels.
For further information contact Klaruw on tel: 0151 420 7377, email [email protected], web: www.klaruw.co.uk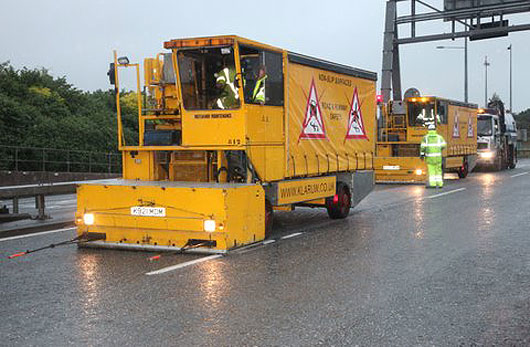 ---
KLARUW RETEXTURING ELIMINATES ACCIDENTS
A programme of road surface retexturing at five sites in Aberdeenshire has seen a 100% reduction in crashes and loss of control incidents in the 8 months since treatment.
Some 18,000m2 road surface rexturing has been carried out by Klaruw using its K190 all-weather, controlled bush hammering machine. The elimination of crash incidents and their resulting cost has provided a 2500% economic rate of return (ERR). This compares favourably to some min road improvement schemes where ERRs of 100% are not uncommon.
Prior to treatment, a total of 34 accidents (including damage only) has been recorded across the five sites during 2009 representing a cost of £3 million. Work was carried out between the end of January and early March 2010 on the B977at Leylodge, at two sites in Cottown on the B994 and at Swailend and Oldmeldrum on the A947.
Historically in the north-east of Scotland, road aggregate has some of the highest PSV as the stone chips used are predominately from granite quarries. This makes retexturing a particularly good option when polishing of the stone eventually occurs at sites subject to high braking pressures.
The Council is delighted with the significantly improved skid-resistance. Mel Edwards, principal engineer for the Road safety Engineering Unit, Infrastructure Services at Aberdeenshire Council said: "We analysed records for the first 8 months to October 2010 which showed that there had been no accidents. Clearly, the works have made a significant difference and it will encourage us to use this method for similar sites in the future."
For further information contact Klaruw on tel: 0151 420 7377, email [email protected], web: www.klaruw.co.uk