Nu- Phalt Case study: Green solution for a Green Council
With the Brighton and Hove City Council being a 'Green' Council with a 'Green' majority but also with the only green MP in the country, environmental and sustainable solutions for the road network are a high priority.
The Highway network itself (615km) is nearly completely urban in its location and unfortunately has not historically been well invested in. There have been many reasons for this but fundamentally, as we all know, highway maintenance is not seen as 'sexy' in the world of transport schemes, so the network receives little attention until it all falls apart and then people are suddenly surprised by this occurrence. It is therefore absolutely essential that the limited funding that is made available is used wisely and effectively in keeping the network in as safe a condition as possible.
Within Brighton and Hove, the highway structure is often built on top of hogging and even where fully constructed from the outset, because of the extensive trenching and ironwork associated with an urban environment, it does suffer from repeated excavations and weakening of its structural integrity. The resultant maintenance required becomes very difficult to carry out in the busy and often heavily trafficked urban environment.
Stuart Wilson, Highway Maintenance Team Manager Brighton & Hove Council, reported that: "We always look for more efficient ways of carrying out repairs and have trialled many products over the years including other methods of heat induced repair systems but were less than impressed with both the design and functionality of these set-ups, so reverted back solely to traditional methods.
After much pestering from the sales manager at Nu-Phalt, I agreed to a brief initial demonstration and trial, but then having seen first hand the quality equipment and set-up in operation I had to confess to being immediately impressed by the design integrity and thought that has clearly gone into this product. I arranged for hire of an all-in-one van system on a year's trial through our term contractor R J Dance."
Over that trial period a number of factors concerning the Nu- Phalt system were established:
- It is a permanent repair when undertaken correctly, saving on the use of temp materials
- Once operatives are fully trained and experienced, the work can be done to a very high standard
- Quicker than a normal break-out reinstatement
- Really effective round ironwork with a good bond due to the heat and also a seamless edge
- Much quieter with no breaking-out required, which is a real bonus in the urban environment and gives scope for extended working times
- The operatives prefer the less physical work required compared to conventional repairs
- It has proved very cost effective saving ........ in emergency repairs over a financial year
- And has far less of an environmental impact with improved efficiency and none of the on-costs associated with material waste
"The system offers great flexibility as our operatives have been trained and instructed to systematically work their way round the network dealing with any appropriate defect as they find them. The current programme is to focus on all the bus routes where the greatest level of deterioration is occurring but at the same time we use this system as a 24hr (phone call) response team for potholes where appropriate and save on temp/perm repair costs", said Wilson.
He continued: "I am happy to report that we are now in our second year of operation and will continue to use this system for the foreseeable future, seeing it as an integral part of our highway maintenance programme in these austere times. I am also investigating the possibility of either bringing in a second machine or hiring in the 'trench burner' (2m x 0.5m element) for a couple of months in order to address some of the older failed trenches present on our network. Its great flexibility and environmental benefits are proving its worth as a key asset of our maintenance programme".
For further information on Nu-phalt visit:
www.nuphalt.com
or tel: 08442 571570
Nu- Phalt case study: Carillion Innovation for Derby Council
Part of Carillion's values and culture is to challenge what it does, developing and introducing innovative solutions on our contracts. As the Term Maintenance Contractor for 5 years for Derby City Council, the company has worked in partnership to introduce technology and innovation which add value and deliver cost efficiencies.
Having trialled previous infra-red systems with limited success, Carillion were initially sceptical that Nu-phalt's system would challenge previous experiences. Following an explanation around the advancements made with their heater technology, coupled with their single vehicle solution they arranged a demonstration for Derby City Council.
"The first demonstration proved that significant advancements had been made. This resulted in a 3 month trial that delivered results in terms of reduced cost per repair, health and safety and sustainability. Average savings 38% per m2 were realised over traditional small patch repair methods. This figure does not tell the whole story, as no cost allowance was made for repeat visits to temporary repairs within the calculation," said Mark Pearson, Contracts Manager for Carillion Highway Maintenance.
From an operator perspective there are no jack hammers or cutting out on site. All material is recycled on site and reduced vehicle movements within the city reduce fuel costs and congestion. The system reduces the amount of plant required with 2 x operators and a single vehicle needed to deliver a first time permanent repair.
The system has further proven its value through the cold winter months. This became apparent during the winter of 2011, when the system was out completing permanent repairs at -10 degrees. It was understood that there would be a reduction in productivity which was down to the requirement of a double heat cycle to allow sufficient levels of heat into the surface to complete the repair. However, any reduction in productivity was offset with the ability to deliver a permanent, first time, hot patch repair at temperatures when temporary repairs failed and subsequent follow up site visits were standard practise.
Carillion have further developed the system on other contracts, into a proactive tool as opposed to reactive. With the crew undertaking find and fix ahead of the highways inspector's statutory inspections, Carillion have reduced the amount of reactive work and call outs which has improved programming, reduced costs and increased efficiency.
Derby City Council is extremely pleased with the results. "We found Nu-Phalt to be a valuable tool when we had a maintenance backlog a couple of years ago, as a result of the recent severe winters. The process has been well received by our customers and Councillors and we are considering its continued use as part of our long-term strategy for dealing with reactive maintenance", said Dave Kinsey, Streetpride Manager – Highways.
For further information on Nu-phalt visit:
www.nuphalt.com
or tel: 08442 571570
Velocity's Training Highway
If you're a decision-maker within the transport department of a local authority, damning daily forecasts of bad winters combined with an ever-reducing budget may feel like a road to hell. But road repair experts Velocity may just be the solution to the double-whammy nightmare of cuts and potholes.
In fact, in these times of austerity and cut-backs, Velocity is fast becoming the watchword for cost-effective permanent road repair solutions and long-term preventative programmes.
Successive bad winters of freeze-thaw-freeze have left Britain's roads pockmarked with suspension-jarring potholes, with the Local Government Association warning that another cold winter will cause serious damage to the road network at a time when they report that nearly half a billion pounds has been cut from its highways maintenance budget.
But Velocity promise to swiftly make permanent repairs at a fraction of the cost of conventional methods. Armed with their specialist machines, the company's three-man teams are capable of carrying out up to 150 long-lasting pothole repairs each day.
It was Velocity's emphasis on a get-it-right-first-time policy on long-term repairs that sealed a major contract repairing Cheshire roads this summer. Three of the company's state-of-the-art machines and highly-skilled teams spent the summer months tackling a legacy of road defects on the highways of Cheshire.
"As with most other counties, a series of bad winters had resulted in a considerable deterioration of the Cheshire East road network," explained Mark Swindells, Area Manager for Cheshire East Highways. "There were too many to deal with by conventional methods, so we gave Velocity the job after researching the most efficient way of repairing a large number of legacy potholes.
This was our first time with Velocity but it was a very positive experience, so much so that we've already taken them on for additional work.
We combined our local knowledge with their area of expertise to successfully carry out a significant programme of repairs. From my point of view, Velocity does what it says on the tin. They make permanent pothole repairs very successfully.
What really impressed me about them was when I met the team manning the vehicles. It was clear that their operatives were very experienced and knowledgeable in their field. That meant we could rely on them to get on with their task with limited supervision. I would certainly recommend them."
The Velocity process isn't just used to remove defects either, as it is an excellent preventative tool to halt road surface deterioration. Equally suitable for rural and urban roads, the system can also be adapted for repairs to potholes, edge deterioration, haunching, depressions, cracking, crazing and extending the life of worn conventional repairs.
For more details about Velocity's services, visit their website at
www.velocitypatching.com
or call Phill Lewis on 0191 565 4400 to arrange a free trial.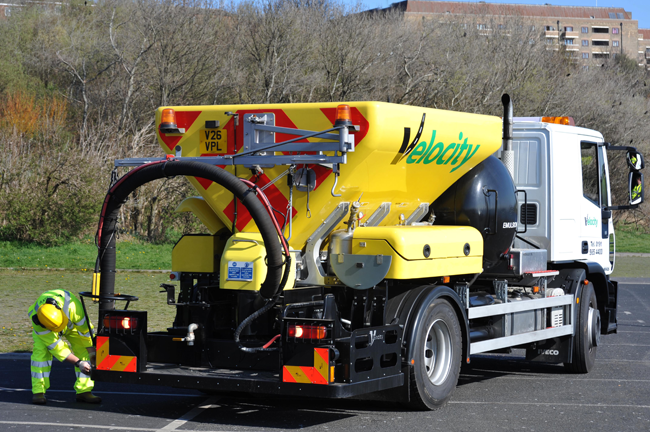 back to contents »