Nu-Phalt Delivers in Dorset
Dorset Council has 2,653 square kilometres of roads to maintain, demands on budgets required a new way forward to carrying out pothole repairs which would deliver a significant £/m2 savings over traditional methods; providing a seamless repair that minimises the risk of repeat visits due to failures; reducing traffic management disruption and optimizing vehicle and plant resource. The Dorset team also wanted the additional flexibility to repair potholes at night in urban areas with reduced disruption to all.
Nu-phalt was initially asked to demonstrate its award winning thermal repair system to Dorset Works Organisation, the DLO responsible for the county. Within 24 hours of this demo, a five-week trial was agreed during which Dorset's own operators were trained by Nu-phalt to use the system. Due to the success of this initial trial it was decided to carry out a more comprehensive and robust trial for six months. During this time a series of patches were repaired in extremely adverse conditions, with a wind chill factor close to freezing. All of the patches successfully survived the very wet and cold winter (early 2010), proving the viability of using a seamless repair system. During the trial period, an average productivity of 20 square metres a day was obtained.
Dorset Council could see that they could drive out inefficiencies if they used the eco friendly and lower cost Nu-phalt process, which uses less new material, less energy, and adopt a 'right first time fix' approach. They realised that manpower and repair could be greatly reduced while at the same time improving workmanship, working conditions and overall customer satisfaction.
Further investment in a second Nu-phalt lease system has delivered recent savings of £18.32/m2 over traditional methods; reduced Traffic Management disruption; a reduction in vehicle and plant resource and reduced noise and increased quality of repairs enabling them to safely use the Nu-phalt machine through routine day maintenance programs with added advantages of night time repairs in urban areas with reduced disruption to all, no waste products going to landfill, minimum amount of new material required for repairs, seamless repair reducing the risk of joint failure, quick repair time minimising traffic disruption, smaller carbon footprint and more environmentally friendly due to less noise and dust. The benefits of the Nu-phalt repair system are underlined by Tony Stevens, Dorset Works Routine Maintenance Manager who said: "If a quick conventional repair is viewed in isolation, it may appear the cheaper option. But in fact, due to the poor performance of such repairs, they can typically necessitate several repeat visits and end up costing more. Nu-phalt repairs give us a greater capacity to address proactive maintenance projects without worrying about attending to the same recurrent defects – the true value far exceeds the immediate savings."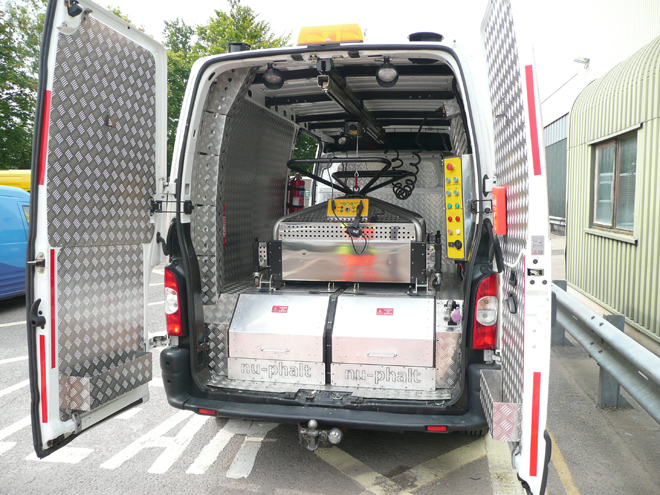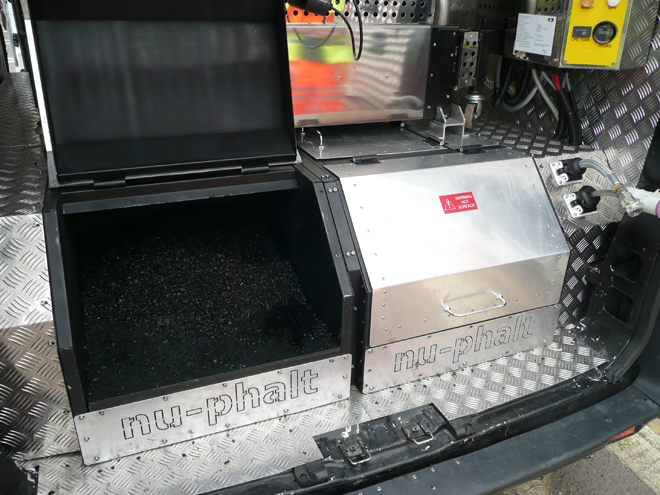 Nu-phalt's conversions to tanked LPG removes the need for operatives to carry heavy gas bottles in and out of the van; Reduces overall weight by 200 to 250kg, offers more available space for storage/additional material and delivers significant fuel savings against original bottled gas version (approx. £50 / week). Furthermore, Nu-phalt's innovative facility offers significant improvement in the workmanship and a turnaround in failure rate from the recorded 3% to not having to return to a repair failure to date.
Dorset Works Organisation took over the Highway Agencies in Weymouth and Christchurch to expand the Nu-Phalt service into other areas to meet potential demand. Impressed with not just the thermal repair system, but the customer service provided by the Nu-Phalt team, Dorset Council is in no doubt that Nu-Phalt's single vehicle facility has become a welcome addition to their highways toolbox.
Continued investment in 2 x Nu-phalt systems, both converted to tanked LPG (liquefied petroleum gas), drives further cost efficiencies by reducing gas costs by around £50 / week. The systems deliver operational efficiencies with reduced travel time which has increased daily outputs resulting in improved productivity. Both systems offer a permanent, right first time, hot patch repair, delivering operational and cost efficiencies at a time when achieving more for less is high on everyone's agenda. Andrew Martin, Head of Dorset Works Organisation, believes that the investment in Nu-phalt will pay dividends. He said: "We have been delighted with the results. Our first system delivered saving of at least £5/m2 over traditional methods, this has increased following the introduction of a second system to £18.32, depending on the quantities/proximity of defects. The quality of finish is without doubt the best we have trialled and we have looked at every infrared process on the market. The self-contained arrangement within the van has reduced Traffic Management disruption and of course resulted in a reduction in vehicle and plant resource.
With reduced noise and increased quality of repairs we can safely use the Nu-Phalt machine at night in urban areas with reduced disruption to all. The Nu-Phalt process has proved to be a good way forward for carrying out pothole repairs and is cost effective giving a seamless repair that minimises the risk of repeat visits due to failures."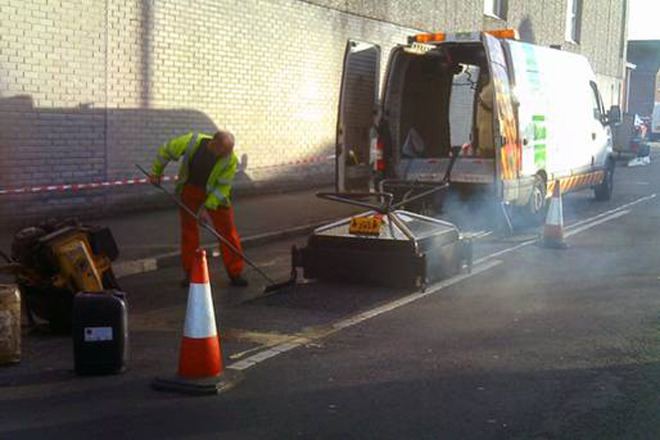 Nu-phalt in Northamptonshire
MGWSP, a 50:50 joint venture between WSP UK and May Gurney, is responsible for Northamptonshire's £500 million sustainable transport highway services contract. MGWSP, in partnership with the Council, maintains more than 4,000km of roads across the county. The partnership has identified the reduction and elimination of potholes as a major factor in its policy on sustainable transport. The Nu-phalt system's ability to deliver permanent repairs with a seamless joint caught the attention of MGWSP, which prides itself on using the latest technology to secure best value for money.
Following a well-received demonstration, MGWSP undertook a three-month trial of a single Nu-phalt system from April – June 2009, with full training provided. The client's has high praise for the Nu-phalt system. Ian McGivney, Head of Operational Delivery for MGWSP Northamptonshire Highways said: "The Nu-phalt system has successfully been used by MGWSP on the Northamptonshire contract over the last two years. The system is simple to operate and the environmental benefits are significant, including less waste to landfill, reuse and rejuvenation of existing materials and reduced carbon footprint. With trained teams targeting the right roads, we can repair more defects per shift than by the traditional patching method - at a significantly reduced cost. There's no jack hammering or saw cutting, which limits the opportunity for service strike damage and ensures reduced noise, vibration, dust and manual handling."
His comments were echoed by Carl Evam, Operational Area manager for MGWSP Northamptonshire Highways, who said: "The Nu-Phalt patch repair system is recognised as an appropriate technique for HRA (blacktop) or other similar binder rich surfaces.HRA or similar exists on much of the Northamptonshire network which suggests that the Nu-Phalt patch repair system is an ideal solution, especially for urban areas in which HRA is prevalent. The initial trial also incorporated patch repairs on concrete with HRA or other binder rich surface overlays where no reduction in the quality of repair has been reported".
For further information call Nu-phalt on 08442 571570 for a free, no obligation quote, or email
enquiries@nuphalt.com
or
enquiries@jetpatcheruk.com
New managing director for Klaruw
Klaruw bv, the Dutch retexturing and surface treatment plant specialist, has appointed Martin Leech as managing director of its UK direct contracting operation.
Mr Leech has over a decade of experience in sales and business development within the highways and airfield industries, working in the UK and internationally. He joins Klaruw from infrastructure group, Colas, where he held the position of international sales manager from 2004, gaining specific expertise in bitumen-based materials, high friction dressings and anti-skid surface treatments. Prior to this, he was sales manager for Prismo, the specialist in pavement markings and traffic safety solutions.
Mr Leech said: "I am delighted to be joining Klaruw to work with its excellent and highly experienced team in the UK. Our sights are on growing the business at an exciting time of opportunity for the company's innovative safety solutions which squarely meet the need for carbon-reducing, cost-effective, all-year pavement treatments."
Klaruw is a leading innovator of controlled mechanical retexturing plant designed for any-weather, materials-free renewal of pavement surface skid-resistance. The portfolio includes K190 bush hammering, wet shot-blasting, diamond grooving and flailing machines to remedy wet skid problems on road, airfield and race track pavements.
For further information on Klaruw visit:
www.klaruw.co.uk
back to contents »