RSTA Members' News
NI ROADS SERVICE TRIALS KLARUW'S RETEXTURING
Northern Ireland's Department for Regional Development (DRD) Roads Service has completed trials of the Klaruwtex190 (K190) bush hammering process on two trials sites of the A5 south of Londonderry. A total of 17,500 sq/m was treated by Klaruw RMS, the Widnes-based subsidiary that carries out direct contracting of the K190 process.
The process provides controllable retexturing of any sound, natural aggregate surface course to restore micro-texture and hence the surface friction for improved skid resistance. Able to operate in wet weather and with minimal traffic management, the treatment does not use any materials or hot processes and generates a minimum of arisings. This means a low carbon footprint and negligible waste disposal costs. The Roads Service will be evaluating friction measurements for the K190 treated sites following its annual road condition surveys.
For further information visit: www.klaruw.co.uk
---
WET APPLICATION SHOT BLASTING TRIALLED IN UK
A prototype machine for wet application shot blasting has been trialled in the UK. The process is designed to improve both the macro-texture and micro-texture of highway, airport and racetrack pavements.
Developed by the Dutch retexturing specialist Klaruw Tilburg, the Macrotex (MAT) shot blasting plant offers advantages in process control, treatment flexibility and rate of coverage over conventional shot-blasting machines. Significantly, it enables the use of wet steel shot allowing retexturing to be carried out in wet weather, even in heavy rain.
Area 10 managing agent contractor A-one+ undertook trials on sections of concrete, hot rolled asphalt and thin surfacing on the M56 near Chester. North Wales Trunk Road Agency is examining the results of trials on hot rolled asphalt and thin surfacing section on the A55 North Wales Coast Road. Early indications are that both trials saw promising improvement in both macro and micro textures.
The MAT machine shot blasts and cleans the road surface as one integral unit in a single pass. This simplifies traffic management and leaves treated sections ready for immediate use. The technique requires no after-treatment or curing time and leaves no residual deposits. It applies no new material to the road, produces minimal waste and recycles the water and shot used during the process.
Klaruw Tilburg intends to offer the MAT process alongside the K190 process through direct contracting by its UK subsidiaries Kalruw RMS, which also specialises in airport applications.
For further information visit: www.klaruw.co.uk
---
GREENER, LEANER, MEANER
A number of road surface innovations saved time, cost and materials on the A45 Weston Favell – Billing trunk road, Northamptonshire.
The original reinforced concrete pavement had been overlaid 7 years earlier with a thin surfacing layer that was showing signs of ravelling and stripping particularly around the joints which had been extensively patched and filled. The concrete slabs were showing visible signs of movement and longitudinal cracks were present in some areas. Conventional maintenance for this construction type would call for breaking out the damaged and racking concrete bays, digging out and reinstating the foundation and casting and curing concrete. In addition, overlaying the concrete with asphalt would need a thickness of 240mm to ensure reflective cracking did not re-occur. This overlay thickness was not possible given the headroom limits of the two bridges on the site.
The solution advocated by Asphalt Reinforcement Services was the application of an innovative thin pavement design comprising a combination of asphalt reinforcement and polymer modified asphalt surfacing. This eliminated the need to remove and replace damaged concrete slabs and the need to lift barriers and kerbs.
Particular benefits included:
Reducing the 8 weekend programme to 5
Provision of a 10 year design life of 95% crack free surfacing
Provision of texture depth and skid resistance to HA requirements
Provision of durable long-life surfacing with a total thickness of 50mm minimum over current concrete levels.
The final pavement structure involved the use of GlasGrid, Compogrid and Sealoflex SC-4 spray systems and involved the following:
Planing off the existing surface into 20mm of the concrete
Thoroughly cleaning and tack coating the prepared concrete
Repairing joints and cracks
Laying 20mm regulating course over the entire area onto which was installed:
56,000m2 GridSeal comprising of GlasGrid 8501 with 2kg/m2, Sealoflex SC-4 hot bitumen spray with 7kg/m2, 10mm chippings covering 50% of the binder area
Overlaying with 50mm Sealoflex SF5-50 (HTY) 0/14 SMA surface course.
A rolling pattern was designed to ensure the required compaction without fatting up and the Sealoflex modified SMA was travelled for 2 hours to simulate possible travel time on the job. A ceramic joint heater attached to the paver was used to close cold joints on the centre line.
Reports show that the use of the Sealofix polymer modified SMA with Gridseal reinforcement inter-layer is performing very well and meeting the full expectations of the designers and client.
For further information visit: www.asphaltsrs.co.uk
---
BUYING TIME
As we are all aware in today's economic climate value for money and longevity of assets are, and need to be, high on client agendas. As a result, Colas Airfields Division and ASI Solutions plc hosted their first Airfield Asphalt Preservation Open Day in July at Hawarden Airfield in North Wales. Over 40 consultants, airfield specialists, airport personnel and a number of key highways representatives attended the event which highlighted the specialised processes, products and solutions that Colas and ASI can offer.
Guests were able to observe the Delta Apron Rhinophalt preservation treatment underway and had the opportunity to visit the runway that had been treated with Rhinophalt almost a year ago. ASI's Rhinophalt was chosen last year following a small scale trial between three various preservation/rejuvenation products. The goal is to prolong the life of the grooved-asphalt runway. The process was quick to apply, and the airfield was reopened within 36 hours. A year later, the results are good. The customer reports that stone loss and FOD issues in the treated areas have been halted and the runway performed very well over the extremely harsh and wet winter.
The processes shown at Hawarden are equally as relevant to highways as to airports and airfields in that the essential principle is to prolong the life and usage of asphalt and bituminous bound materials.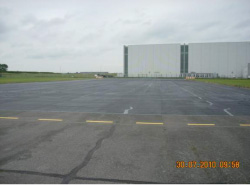 For further information on the airfields solutions offered by Colas Airfield Division at ASI Solutions plc please contact:
Sean Mansell at sean.mansell@colas.co.uk, Barrie Simpson at barrie.simpson@asiplc.com or Tricia MacKay at tricia.mackay@asiplc.com
---
PROVIDING SPECIALIST HIGHWAY MAINTENANCE TREATMENTS
In operation since 2001, Eurovia Specialist Treatments have been providing local authorities with an ever-increasing range of specialist and proprietary highway maintenance treatments. Covering the whole of the UK, and with the support from our UKAS accredited technical centre, innovation is integral to the treatments and services that we offer.
In addition, we are able to draw upon the expertise and resources of the Eurovia Group from our maintenance, signs installations, road markings, vehicle graphics and airport services divisions.
We specialise in delivering advanced and effective maintenance solutions and take pride in our ability to advise on the best use of new and existing processes which meet site requirements whilst delivering full live cost savings.
Eurovia Specialist Treatments is:
ChaS and Construction Line accredited
Part of a RoSPA Gold Medal winning Group
Certified to ISO 9001:2000, 14001:2004 and 18001:2007
Eurovia Specialist Treatments is BBA/HAPAS approved to install:
Thermoplastic, Epoxy Resin and MMA-based HFS
Gripfibre Microsurfacing
For further information, email: info@eurovia.co.uk tel: 01403 215800, fax: 01403 215801, post: Albion House, Springfield Road, Horsham, West Sussex RH12 2RW

Eurovia Specialist Treatments: anti-skid – machine applied high friction surfacing – bond coating – decorative surfacing – footways slurry sealing – micro surfacing – street print – surface dressing – water retexturing
---
GEOSYNTHETIC SOLUTIONS
TenCate Geosynthetics UK Limited in partnership with their approved installers, Foster Contracting Limited of Kelvedon, nr Colchester, offer a range of geosynthetics for use in the bound layers of flexible pavement construction.
TenCate and Fosters have worked closely together for many years across a wide range of projects and in many areas of the country. TenCate have a UK office in Telford (01952 588066) and Fosters have two offices , one in Kelvedon (01376 570345) and one near Dunkeld in Perthshire.
The TenCate PGM and PGM-G Range provides a comprehensive range of products, both reinforced and unreinforced , which can be used in surface dressing applications, under new surface courses when the old surface is to be milled off and in new construction.
TenCate offer a design service in order to evaluate and recommend the most appropriate solution after all the specific characteristics of the pavement are identified.
TenCate and Fosters are active members of the RSTA and are working together on various initiatives in order to promote the use of these techniques.
The combination of the correct material, supplied to the required standard and installed correctly will extend the life of the road surface, will delay the propogation of reflective cracking and will ultimately make everyone's already limited budgets go further.
For further details contact David Shercliff of TenCate or Ray Wicks – Sales Director of FCL on the above or on 07764 462294.