AUTUMN STATEMENT OFFERS LITTLE CHEER FOR BELEAGUERED LOCAL ROAD NETWORK
The Road Surface Treatment Association (RSTA) was relieved that the Autumn Statement announced today has not squeezed any further the dwindling funding for local road maintenance and has called for the Chancellor to do more to help local authorities faced with the severest funding cuts since the Second World War.
Chancellor George Osborne has ordered a further £3 billion in spending cuts but has signalled that local government will be exempted from the cuts.
Since the 2010 Spending Review, the average local authority has faced a 66 per cent reduction in funding. Indeed, according to the Local Government Association, the reductions since 2011/12 are the most sustained cuts since the Second World War and local authorities have already delivered some £10 billion in savings over the last three years.
Many councils are nearing breaking point with existing cuts scheduled for 2014/15 and 2015/16 amounting to a further funding reduction of 21 percent.
"The consequence of this is that increasingly local authorities simply do not the funds to meet their obligations to provide a safe and well-maintained road network", said Howard Robinson, RSTA chief executive. "The Government has previously said that it will provide additional funding for maintaining local roads from 2015 to 2020. Unfortunately, neither the Autumn Statement or the related National Infrastructure Plan have provided any real assurance that the necessary funding will be made available".
In the National Infrastructure Plan, the Government is committed to build at least 52 major road projects by 2020 and resurface as much as 80 per cent of the strategic road network. "However, this is of little comfort to councils trying to maintain the local road network", said Robinson.
CROSS-PARTY ROADS MAINTENANCE REPORT WELCOMED
RSTA has warmly welcomed the findings of the All Party Parliamentary Group (APPG) on Highway Maintenance. The Group's recommendations for 'prevention rather than cure' and asset management have long been championed by RSTA as the way forward to address the UK's crumbling road network.
In their report, 'Managing a valuable asset: improving local road condition', the cross-party representatives of the APPG all agreed on the deteriorating state of the UK regional and local road network despite it being the most valuable asset for local authorities. It is calculated that some £10.5 billion is necessary to rectify the situation. Yet outside London, road maintenance is under-funded by an average £6.2 million per local authority every year.
Calling for urgent action to counteract the continued deterioration of the road network, the APPG has made a number of recommendations. These include getting the road network to reach a 'steady state' of no continued deterioration. Once this has been achieved then long-term planned, preventative maintenance programmes can be implemented. This 'prevention rather than cure' approach is far more cost effective than expensive reactive 'patch-and-mend'.
Other recommendations include making asset management plans mandatory, encouraging further devolution of highway funding decisions and optimising maintenance across local and national road networks. These are all valid recommendations that if pursued and implemented could make a real difference to the state of our roads. As the road network is a local authority's greatest asset it is imperative that it is well managed. Devolution of highway funding would allow authorities to make best use of available resources and maintenance programmes could be optimised through greater partnership between local and national authorities.
The report from the APPG has not only highlighted many of our concerns but its recommendations echo RSTA's calls for greater long-term funding for preventative maintenance and the implementation of asset management and partnership for greater cost- efficiencies, use of resources and exchange of best practice.
NEW GROUP TO FORWARD BENEFITS OF ROAD RE-TEXTURING AND RE-PROFILING
Re-texturing and re-profiling of roads offer an extremely cost-effective and sustainable road surface treatment. The Road Surface Treatments Association (RSTA) has established a new sub-committee to forward best practice specification and installation of this low carbon road surface technique.
Re-texturing and re-profiling involves the mechanical reworking of an existing road surface to improve its frictional skid resistance. This re-use of the existing road surface is effectively 100% in-situ recycling. No additional aggregates or binders are required and minimal, if any, waste is generated. Importantly, given limited road maintenance budgets, re-texturing and re-profiling can significantly extend the performance life of existing road surfaces.
Initial issues for the new sub-committee include amendments to the Highways Agency's Design Manual for Roads and the development of a new code of practice that combines re-texturing and surface re-profiling of asphalt and concrete roads.
Commenting on the group, Martin Leech, Managing Director of Klaruw RMS and Chairman of the new sub-committee, said: "Re-texturing and re-profiling have considerable potential for cost-effective and sustainable road maintenance. The new RSTA Surface Re-texturing and Re-Profiling Sub-Committee aim to realise this potential via information dissemination and the promotion of best industry practice.
HMEP LAUNCHES NEW MAINTENANCE TOOL KITS
New guidance from the Highways Maintenance Efficiency Programme (HMEP) explains how local authorities are working with their providers and supply chains to bring about lasting change, and competitive prices. To this end it has published two new toolkits aimed at giving practical help and offering examples of how best to achieve sustainable change. The two new tool kits include:
Creating the culture to deliver
Maximising client/provider collaboration in highway maintenance services.
Both provide real evidence of the type of efficiencies that can be expected when clients and their providers work together. Commenting on the toolkits Steve Kent, President of the Association of Directors of Environment, Economy, Planning and Transportation (ADEPT) said: "Budgets for highways maintenance are going to become tighter and the challenge to maintain or enhance service delivery will not go away. There is little doubt that clients will struggle to deal with this problem on their own – we need to work closely with our providers and partners to achieve success."
To download the tool kits visit:
http://www.dft.gov.uk/hmep/efficiency/index.php
.
NU-PHALT SYSTEM AND WHAT THE CUSTOMERS SAY
The idiom 'the proof of in the pudding is in the eating' is underlined by the customer feedback for the Nu-phalt System and Jetpatcher systems, examples of which are below:
"I have been very pleased with the performance of the Nu-Phalt patching system, which Renfrewshire Council have been using for the last 4 years. I was initially very sceptical of the system, having drawn comparison and experience from another infra-red heater. Whilst at first glance both heaters look similar, I could not have been more wrong.

I am particularly impressed as the system is totally self-contained within a single vehicle, which reduces congestion. This delivers savings before we even start, with no need for hotboxes or multiple vehicles, making it easier to provide traffic management.

All in all, the Nu-Phalt system is definitely a very useful tool in the challenge to maintain our highways."
— Brian Allison, Renfrewshire Council – Customer since 2009
"We have been delighted with the results; saving of £18.32 depending on the quantities/proximity of defects are being achieved. The quality of finish is without doubt the best we have trialled and we have looked at every infrared process on the market. The self-contained arrangement within the van has reduced Traffic Management disruption and of course resulted in a reduction in vehicle and plant resource."

"With reduced noise and increased quality of repairs we can safely use the Nu-Phalt machine at night in urban areas with reduced disruption to all. The Nu-Phalt process has proved to be a good way forward for carrying out pothole repairs and is cost effective giving a seamless repair that minimises the risk of repeat visits due to failures."
— Andrew Martin, Head of Works Organisation, Dorset County Council – Customer since 2010
"In a time where efficiency and cost savings are the primary drivers in all that Local Government do, the benefits that this system offers are both measurable and immeasurable to this Local Authority and the public which it serves.

As we are all aware, there are many products and systems out there in the Highway Maintenance industry but only a few that are truly green, efficient and offer a qualityproduct at the end of the day. This is one of those products."
— Stuart Wilson, Highway Maintenance Manager, Brighton & Hove – Customer since 2011
JETPATCHER SYSTEM AND WHAT THE CUSTOMERS SAY
"The Jetpatcher system has enabled NCC to increase productivity and become more cost effective in delivering reactive and non-reactive maintenance, we were impressed by the professionalism and customer support throughout. In a predominantly rural network the Jetpatcher system will remain the preferred choice in responding to carriageway defects on our unclassified road network."
— Steve Mason, Senior Highways Team leader, Northumberland County Council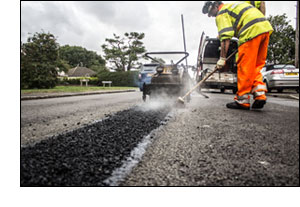 "The Jetpatcher facility was new to Buckinghamshire County Council, which created considerable pressure on Ringway Jacobs to make sure the system provided the quality and output required. The end result was an improvement to the network and reduction in the considerable backlog of defects."

"The operation commenced in April 2012 with an initial 3 month hire period. During which time the operation came under close scrutiny from Buckinghamshire CC, resulting in daily visits from the clerk of works. During the first month the Jetpatcher system repaired over 1500 pothole defects, this early success gave us the confidence to extend the original hire period."
— Steve Jenkins, Transport for Buckinghamshire
back to contents »